Bonded labourer rescued from the house of working couple, Air Force Squadron Leader and Army Medical Officer.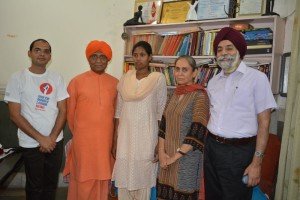 When many State governments are claiming that they are free from the menace of bonded labour system, Social Organizations continue to rescue bonded labourers from many places and proving the claim of governments wrong.
Bandhua Mukti Morcha (Bonded Labour Liberation Front) an Organization that has been fighting against Bonded labour system in the country under the leadership of Human Rights Crusader Swami Agnivesh has rescued an tribal girl from the Delhi Cantt house of Squadron Leader Sudhip Maithi and his wife Nidhi Srivastav who is a Medical Officer in the Base Hospital.
21 year old tribal girl Junita Tirki had come to Delhi along with her friend 2 years ago in search of job. Her friend introduced her to a placement agent Dasharat Kumar who in turn placed her in the Delhi Cantt. house of Sq. Leader Sudhip Maithi and Smt. Nidhi Srivastav as domestic help. She was promised a salary of Rs. 3000/- per month and was asked to work in the said house for one year. On many occasions In the last two years Junita Tirki pleaded with her employer and the placement agency to pay her dues and relieve her to enable her to go back home but they did not allow her. Junita tried to escape from the house once but was not successful. Thereupon Junita was subjected to beating and cruel torture which didn't behove well for a lady like Nidhi Srivastav in a manner that the victim would never dare to raise her demand to go home again. She has also seized the victims' mobile phone so that she would not be able to contact her relatives.
Meanwhile, Junita's brother who was also working as domestic help in Delhi sought the help of his employer Smt. Jatinder Kaur who immediately contacted Bandhua Mukti Morcha, 7 Jantar Mantar Road on 2nd of June and gave a written complaint to rescue Junita from her captivity. At the behest of Swami Agnivesh , Delhi Cantt. Police traced Junita's address. On the 3rd of June 2015, Delhi Cantt. Sub Inspector Smt Anita, accompanied by Bandhua Mukti Morcha Executive Director , Nirmal Gorana and other officials Aparajita Rai and Bishnu Paul raided the house of Sq. Ldr. Sudhip Maithi and Nidhi Srivastav and rescued the victim.
Police has slapped a case under relevant sections of Bonded Labour Abolition Act 1976 Section 16 and Section 344 and 374 of IPC Act against the tormentor. Victim was produced before the area S.D.M and who recorded her statement and issued the Release certificate and restored the victim to her brother. Bandhua Mukti Morcha Jharkhand Unit would be taking necessary steps to rehabilitate Junita at her home State.